On behalf of all professoriate, academic and administrative staff, I welcome you to the Nethersole School of Nursing at The Chinese University of Hong Kong (CUHK) and to this School website.
Established in 1991, our School is a pioneer in undergraduate nursing education at Hong Kong universities. Over the past three decades, the School has successfully become the premier nursing school with excellent international reputation in health education, research and services locally and internationally. The School has been ranked the first in Hong Kong, and among top three in Asia and top 30 globally, in the QS World University Rankings in the subject of Nursing since 2016.
Preparing nurses to take on leadership roles for now and the future is our mission and commitment. Our School is one of the largest schools of nursing in Hong Kong and Asia, with around 2,000 students who are currently studying in a wide range of undergraduate and postgraduate programmes on a par with international standards. Our School has consistently been admitting best students over the years, for example, our Bachelor of Nursing Programme being the largest UGC-funded undergraduate nursing programme in Hong Kong has consistently hit record highs in admission score since 1995. The CUHK is also the first university admitting PhD nursing students via the Hong Kong PhD Fellowship Scheme – a highly competitive scheme established by the local government to attract the best high-calibre candidates globally to pursue their PhD studies in Hong Kong.
Creating a highly effective and stimulating learning environment for our students takes careful and creative minds and implementation strategies. We have developed a variety of innovative, student-centred pedagogies and educational technologies such as simulation and skill laboratories to support student learning, and have been collaborating with local clinical partners and renowned universities worldwide to provide excellent practicum and exchange opportunities for our students. In response to the rapidly changing and increasingly complex health care environment, we have been planning ahead proactively to uphold our excellence in nursing education.
In line with evidence-informed practice and education, the School also excels in research performance. We have three research theme groups, namely, 'Ageing, Behavioural and Mental Wellness', 'Cancer and Palliative Care' and 'Cardiovascular, Metabolic and Stroke Care', and several research centres such as Asia-Pacific Genomic and Genetic Nursing Centre and Cochrane Hong Kong to support our faculty members and students in developing high quality and impactful research to generate evidence to inform health care and nursing practices. Over the years, our experienced professoriate and research staff have collaborated with worldwide renowned academic institutions and partners, as well as various stakeholders, to secure more external competitive research grants. These funded studies have generated evidence to promote and facilitate the creation, application and dissemination of health related knowledge to the local and global communities in need. This also echoes with the School's mission to further extend the scope and richness of our research to achieve continuous improvement and transformation in nursing/health care for the best benefits to people, societies and all mankind.
Finally, thanks for all your support in helping us achieve a great success in celebrating our School's 30th Anniversary in 2021. I am glad that the series of activities held during the year to commemorate this important milestone, such as the Community Caring Day and the 7th Pan-Pacific Nursing Conference, have generated positive and far-reaching health impacts locally, regionally and internationally. Building on our successes over the past three decades, we shall continue to place an uncompromising insistence on quality and innovation to scale new heights of excellence in education and research. We shall also continue to extend our international collaboration networks and impacts on the development of professional and evidence-informed nursing and health care practices, as well as the betterment of global health.
In addition to enjoy browsing our School website, you are welcome to follow our Facebook, Twitter and/or LinkedIn pages.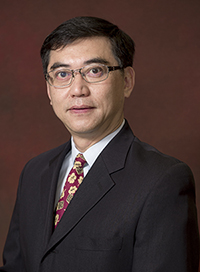 CHIEN Wai Tong 
Director and Professor