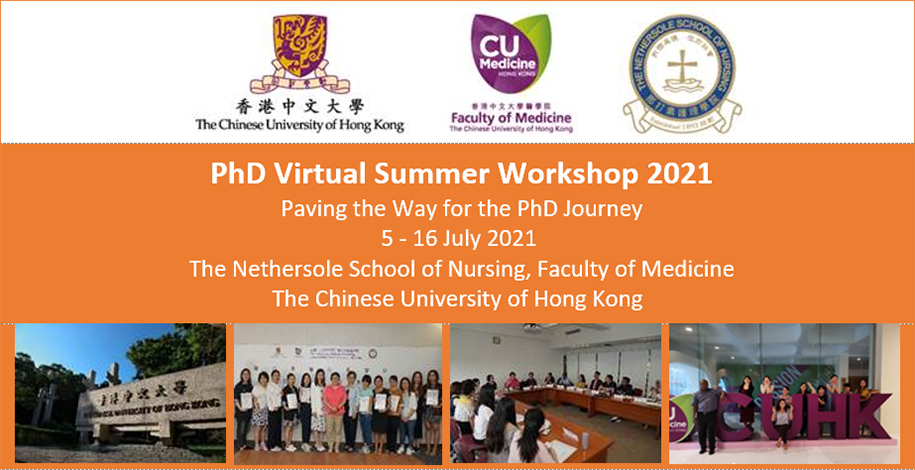 PhD Virtual Summer Workshop 2021
ABOUT OUR SCHOOL

The Nethersole School of Nursing was established under the Faculty of Medicine at The Chinese University of Hong Kong (CUHK) in 1991. Our School offers high quality postgraduate education and promotes high standards of nursing care through scholarship, research and innovative practice. According to the QS World University Rankings by Subject 2021 – Nursing, our School ranks 1st in Hong Kong, 1st in Asia and 22nd in the world.

ABOUT THE WORKSHOP

Studying a Doctor of Philosophy programme is a challenging and rewarding experience that requires a lot of preparation and determination. The workshop provides an excellent platform for prospective candidates who plan to pursue PhD studies in Nursing at CUHK to have the first taste of PhD research and study experience, and have a thorough understanding of the preparation required for PhD studies at our School.

This two-week workshop consists of lectures, meetings and sharing sessions with our faculty members and students. These activities would facilitate participants to develop initial PhD research ideas and skills for preparing the PhD application upon the end of the workshop.

FREE REGISTRATION

Quota is limited.
Applicants with a good bachelor's or master's degree in Nursing from a recognised university are welcome to apply.

PRIVILEGES FOR WORKSHOP PARTICIPANTS

Participants who completed the workshop will be given a higher priority to be shortlisted for interview if they apply for our PhD programme in the coming year.

SELECTION CRITERIA

Selection will be based on applicants' academic backgrounds and performance, career development, research experiences, and English language proficiency. Successful applicants will be notified via email around early June 2021.

APPLICATION AND ENQUIRIES

Application form can be download here.

Please return the completed form to

mphil-phd@nur.cuhk.edu.hk by 30 April 2021.
Should you have any enquiries, please feel free to contact Ms. Alice Chan at mphil-phd@nur.cuhk.edu.hk.
Tentative Schedule

Sharing from Previous Summer Workshop Participants
ZHANG, Mengyue
Admitted in 2020
PhD Summer Workshop 2019 participant
Country: Mainland China

I was really impressed by the summer workshop. During the two-week study at CUHK, I gradually understood the PhD education here. Through visiting the campus and chatting with the staff and PhD students, I could know the CUHK nursing education very specifically, which was so meaningful to my PhD application. I think the most helpful part in the workshop was the introduction of the research protocol which I planned to do in my future study. During the preparation, I could talk to and receive guidance from my mentor in the workshop, and found my interested research direction which was important for my PhD application. The summer workshop was really beneficial as I could get access to the educational resources at CUHK, know more about the PhD programme and enjoy life in Hong Kong. The experience in the summer workshop convinced me to be a PhD student at CUHK and was very favourable for the PhD application.

 
PARUT, Anselmus Aristo
Admitted in 2020
PhD Summer Workshop 2018 Participant


Country: Indonesia

In 2018, I got the chance to attend the PhD summer workshop at the Nethersole School of Nursing as I was chosen to be one of the recipients of a travel grant. During the two-week programme, I could interact with professors, faculty members, PhD students, alumni and participants from other countries. We attended a series of lectures and research seminars, meetings and sharing sessions with faculty members, as well as individual meeting with mentor. The workshop has opened my mind and increased my motivation to pursue my PhD here. I look forward to starting my PhD journey at the Nethersole School of Nursing in August 2020.

CHONG, Mei Sin
Admitted in 2019
PhD Summer Workshop 2018 Participant


Country: Malaysia

I was one of the fortunate ones selected to participate in the summer workshop. The workshop provided me with an incredible opportunity to create network and exchange ideas with many attendees from other countries such as Indonesia, Sri Lanka, Australia and China. The speakers of the workshop did an amazing job. The talks and lectures were interactive and we had a hands-on session on data analysis using SPSS. Indeed, I have learned a lot in this two-week summer workshop. For example, 'All work and no play makes Jack a dull boy'! The School arranged some interesting activities and sightseeing tours for us. That was the time I had the opportunity to mingle with current PhD students and ask for further programme information and application method. It was truly a fruitful workshop not to be missed by anyone who has an interest in pursuing their PhD. After attending this workshop, I returned to my home country and instantly decided that I must apply for the PhD in Nursing at CUHK.

KARTHIKESU, Karthijekan
Admitted in 2019
PhD Summer Workshop 2018 Participant


Country: Sri Lankan

I participated in the PhD Summer Workshop in 2018. When I searched for a PhD position in an overseas university, I came across the announcement of the PhD summer workshop at the Nethersole School of Nursing. Then I applied and received travel awards to participate in the workshop. It provided me with a marvelous opportunity and a valuable platform for interacting and sharing experience with participants from different countries. One of the remarkable events in this workshop was the sightseeing tour which allowed us to better understand the culture and geography of Hong Kong and motivated me to pursue my PhD here due to the healthy environment. Furthermore, this significant event allocated each student a mentor in his/her research field to get together and brainstorm ideas for future research. I am confident that I can finish my PhD on time based on the past experience of senior students and with the support from the School. Moreover, I realised in the workshop that teamwork and time management were vital to the success of our PhD studies. We had also visited the University Library and the Nursing Skills Laboratory where I found a positive and healthy environment and adequate resources to continue my postgraduate study. Finally, the well-designed series of workshops helped enhance my research, practical and theoretical skills as a PhD student. All these encouraged me to become a part of this nursing school. All my gratitude goes to the organising committee and the School for providing such a wonderful experience for us.

ENDANG, Ariesta Milanti Bt
Admitted in 2019
PhD Summer Workshop 2018 Participant
Country: Indonesia

Doing a PhD is a highly demanding journey and yet an important milestone in the academic career. Hence, I realised that it is critical to have careful planning for my PhD study, such as knowing the prospective supervisor(s), the people, the institution, the environment and the resources. Those are exactly the things I got from the summer workshop in 2018. I learned about the leadership and the faculty members of the Nethersole School of Nursing who strived for excellence and high performance, their rich educational resources and the astounding natural environment of CUHK. The combination of these factors shaped my decision to pursue a PhD in this school. I remained in touch with my prospective supervisors and the staff who gave me incredible support so that I could enrol in their PhD programme and receive the competitive Hong Kong PhD Fellowship Scheme (HKPFS). An invaluable bonus of the summer workshop: a strong circle of friends from different countries, two of whom are in the same PhD cohort with me. It was a truly impactful workshop!