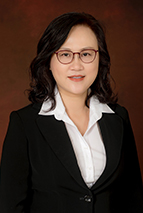 | Table Header | Table Header |
| --- | --- |
| | |
| | |
| | |
| | |
Professor Aileen Chan has been serving at the Nethersole School of Nursing, Faculty of Medicine, The Chinese University of Hong Kong (CUHK) since 1997. During the years, she has taken a variety of teaching and administrative roles. Currently, Professor Chan is an Associate Professor (Practice in Nursing) of the School.
Professor Chan received her PhD in Social Medicine from CUHK. Her research interest focuses on advancing knowledge in the area of Tai Chi, a mind-body therapy. She has established a research programme to investigate the effectiveness of Tai Chi among people with cardiovascular risk factors and various chronic illnesses, such as chronic obstructive pulmonary disease, cognitive impairment and sleep disturbances among hidden elders. The quality of her research has been reflected in the successful acquisition of external funding for helping people to develop Tai Chi skills and incorporate such exercises into their daily life.
| Sub Category | Awards & Honour |
| --- | --- |
| 研究奖项 | Best Poster Presentation Award, First Cochrane Hong Kong Symposium (2019) |
| 研究奖项 | Outstanding Paper Presentation Award, Annual Scientific Meeting cum 22nd Annual General Meeting, Hong Kong College of Gerontology Nursing (2019) |
| 研究奖项 | Best Paper Award, 6th Asian Preventive Cardiology and Cardiac Rehabilitation Conference (2016) |
| 研究奖项 | Outstanding Paper Presentation Award, 19th Annual Congress of Gerontology (2012) |
| Sub Category | Awards & Honours |
| --- | --- |
| 荣誉委任 | Fellowship Member, Hong Kong Academy of Nursing |
| 荣誉委任 | Council Member, Hong Kong College of Education and Research in Nursing, Hong Kong Academy of Nursing |
| 荣誉委任 | Examination Panel Member, Hong Kong College of Education and Research in Nursing, Hong Kong Academy of Nursing |
| 编辑职务 | Editorial Board Member, Journal of Comprehensive Nursing Research and Care |
| 编辑职务 | Honorable Editor, International Journal of Complementary & Alternative Medicine |
| 专业服务 | External Examiner, School of Nursing of Hong Kong Sanatorium & Hospital |
| 专业服务 | External Examiner, Examiners Committee of the Department of Health Sciences of Caritas Institute of Higher Education |
| 教学职务 | Chief Year Coordinator, Master of Nursing Science (Pre-registration) Programme, The Nethersole School of Nursing |
| 教学职务 | Postgraduate Supervisor, Doctor of Philosophy in Nursing, Doctor of Nursing and Master of Nursing Programmes, The Nethersole School of Nursing |
(最近五年以首席研究员或合作研究员身分获得之主要研究拨款)
| 拨款来源 | 项目名称 |
| --- | --- |
| Quality Education Fund | Promoting an incLUsive Society towards older adults with physical disabilities through disability simulation education (PLUS) |
| Research Impact Fund | Promoting healthy ageing through Light VolleyBall (LVB) promotion in Hong Kong and mainland China |
| Health and Medical Research Fund, Food and Health Bureau | Evaluation of the effectiveness of Tai Chi versus brisk walking in reducing cardiovascular risk factors: A randomized controlled trial |
| Quality Education Fund | Enhancing psychological resilience to manage difficulties positively and to promote the mental health of junior secondary school students: A pilot study |
| Seeding Grant for Promotion of Lifestyle Intervention | Tai Chi for improving functional health in people with chronic illnesses |
| Seeding Grant for Developing Teaching and Learning Strategies | Effects of an innovative model of clinical teaching and learning for nursing students: A clinical partnership model |
(最近三年发表的主要论文)
Publications
Ng, S. K., Chau, J. P. C., Chan, A. W. K., Lui, J. K. C., & Cheng, J. W. C. (2021). A nurse-led web-based home asthma education programme for children and their families: A randomized controlled trial. Journal of Pediatric Nursing, 59, 158-63. https://doi.org/10.1016/j.pedn.2021.04.014
Liu, T., Chan, A. W. K., Taylor-Piliae, R. E., Choi, K. C., & Chair, S. Y. (2021). Psychometric properties of the translated Tai Chi exercise self-efficacy scale for Chinese adults with coronary heart disease or risk factors. International Journal of Environmental Research and Public Health, 18, 3651. https://doi.org/10.3390/ijerph18073651
Leung, K. M., Chung, P. K., Chan, A. W. K., Ransdell, L., Siu, P. M. F., Sun, P., Yang, J., & Chen, T. C. (2020). Promoting health ageing through light volleyball intervention in Hong Kong: Study protocol for a randomised controlled trial. BMC Sports Science, Medicine and Rehabilitation, 12(6), 1-8. https://doi.org/10.1186/s13102-019-0151-7
Wong, E. M. L., Leung, D. Y. P., Sit, J. W. H., Chan, A. W. K., & Chair, S. Y. (2020). Prospective validation of the Chinese version of the self-efficacy for exercise scale among middle-aged patients with coronary heart disease. Rehabilitation Nursing, 45(2), 74-79. https://doi.org/10.1097/RNJ.0000000000000156
Leung, L. Y. L., Chan, A. W. K., Sit, J. W. H., Liu, T., & Taylor-Piliae, R. E. (2019). Tai Chi in Chinese adults with metabolic syndrome: A pilot randomized controlled trial. Complementary Therapies in Medicine, 46(2019), 54-61. https://doi.org/10.1016/j.ctim.2019.07.008
Tang, W. K. & Chan, A. W. K. (2019). Learning experience of nursing students in a clinical partnership model: An exploratory qualitative analysis. Nurse Education Today, 75(2019), 6-12. https://doi.org/10.1016/j.nedt.2019.01.003