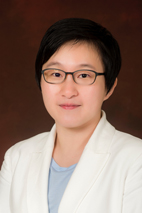 Table Header

Table Header

Cardiovascular care
Mental health nursing
Professor Cheng Ho Yu is an Assistant Professor of the Nethersole School of Nursing, Faculty of Medicine, The Chinese University of Hong Kong. Professor Cheng's research interest focuses on cardiovascular care and mental health, especially in developing and examining interventions based on psycho-physiological mechanisms to manage the intertwined conditions of stroke patients and their caregivers. Her publications include systematic reviews and meta-analyses, and interventional studies in peer-reviewed journals, such as International Journal of Nursing Studies, Patient Education and Counseling, European Journal of Preventive Cardiology, and Rehabilitation Nursing.
Over the past three years, Professor Cheng has successfully obtained more than HK$3.8 million from various research funding agencies as principal investigator, including General Research Fund, Health and Medical Research Fund, Pneumoconiosis Compensation Fund Board.  She is also dedicated to translating research evidence to achieve better education and has obtained a Quality Education Fund from the Education Bureau to enhance the psychological resilience of junior secondary school students.
| Sub Category | Awards & Honour |
| --- | --- |
| 教学奖项 | Best Teacher Award, Doctor of Nursing Programme, The Nethersole School of Nursing, Faulty of Medicine, The Chinese University of Hong Kong (2019/2020) |
| 研究奖项 | ACU Titular Fellowships 2018 – Hong Kong Jockey Club Fellowship, The Association of Commonwealth Universities (2018) |
| 研究奖项 | Best Poster Presentation Award, Sixth Pan-Pacific Nursing Conference and First Colloquium on Chronic Illness Care (2016) |
| 荣誉 | Fellow, Hong Kong Academy of Nursing in the Specialty of Education and Research – Education (From 2021) |
Sub Category
Awards & Honours
编辑职务
Guest Editor, Special issue 'Resilience across the life span', International Journal of Environmental Research and Public Health (Apr 2021 – present)
编辑职务
Review Editor in Schizophrenia, Frontiers in Psychiatry (Apr 2021 – present)
编辑职务
Editorial Board Member, Nursing Open (Mar 2022 – present)
编辑职务
Reviewer of the following international journals:




International Journal of Nursing Studies


Research in Nursing and Health


Asian Nursing Research


Disability and Rehabilitation


Ageing and Mental Health


Psychology and Health


Stress and Health


International Journal of Geriatric Psychiatry


Preventive Medicine


BMJ Open


Frontiers in Psychiatry



专业服务
External Examiner, School of Nursing, Union Hospital (Mar 2022 – present)
专业服务
Advisor, 健康樂頤年 – 長者健康支援計劃, Kwun Tong Resident Association (Feb 2021 – present)
专业服务
Member, Global Burden of Disease Collaborator Network (Apr 2021 – present)
专业服务
Member, ADHD+ Advisory Committee, SAHK (Mar 2021 – present)
专业服务
Co-opted Member, Examination Committee, Hong Kong College of Education and Research in Nursing (May 2021 – present)
专业服务
Cochrane Stroke Group Member, Cochrane (Sept 2019 – present)
专业服务
Chairperson, HKDSE Health Management and Social Care Subject Committee, Hong Kong Examinations and Assessment Authority (Aug 2018 – Aug 2021)
(最近五年以首席研究员或合作研究员身分获得之主要研究拨款)
| 拨款来源 | 项目名称 |
| --- | --- |
| Knowledge Transfer Project Fund | Medical communication assistance to enhance patient engagement and health literacy |
| General Research Fund | FoStering psychosOcial weLlbeing of family caregivers of stroke surVivors using Emotion-centred, problem-solving approach (SoLVE): A randomised controlled trial |
| Early Career Scheme, General Research Fund | Family caregivers affective touching for improving depressive symptoms of community dwelling stroke survivors through security priming |
| Health and Medical Research Fund, Food and Health Bureau | Effects of a music-visual guided physical activity promotion programme among adults with intellectual disability living in residential care facilities: A cluster-randomised controlled trial |
| Pneumoconiosis Compensation Fund Board Research Fund | Influence of cognitive function and skeletal muscle mass and strength on disability among people with silicosis |
| Quality Education Fund | Enhancing psychological resilience to manage difficulties positively and to promote the mental health of junior secondary school student |
| Nethersole Institute of Continuing Holistic Health Education | Embodying a compassionate self through acceptance and commitment therapy for parents and children with eczema: A family-based eczema management programme |
| Health and Medical Research Fund | The cost-effectiveness and effects of a music-paced physical activity intervention on clinical outcomes and physical activity maintenance of post-cardiac rehabilitation patients with coronary heart disease |
| General Research Fund | A theory-based educational programme to improve the cardiovascular health among Hong Kong Chinese post-menopausal women |
| Teaching Development and Language Enhancement Grant for 2019–2022: Special Funding Scheme for Online Learning | The effectiveness of Simulation-Based Zoom Learning (SBZL) on enhancing clinical decision making for Nursing students |
| Seeding Grant for Developing Teaching and Learning Strategies 2020–2021 | Examine undergraduate nursing student's motivation, satisfaction, self-efficacy in online technology and eHealth literacy in real time online learning environment (virtual classroom) |
| Teaching Development and Language Enhancement Grant for 2019–2022 | Passing the torch: Professional development for PhD students and undergraduates in Nursing |
| TDLEG: Funding Scheme for Development of the Credit-bearing Service Learning Programme | Community service partnerships: A coordinated service-learning for Gerontology students |
(最近三年发表的十篇主要论文)
Publications
Cheng, H. Y*., Fung, E*., Choi, K. C., Zou, H. J., & Chair, S. Y., (2022). Early risk of acute myocardial infarction following hospitalisation for severe influenza infection in the middle-aged population of Hong Kong. PLoS One 17(8):e0272661. http://doi.org/10.1371/journal.pone.0272661
Ma, Y., Cheng, H. Y., Sit, J. W. H., & Chien, W. T. (2022). The effects of a smartphone-enhanced nurse-facilitated self-care intervention for Chinese hypertensive patients: A randomised controlled trial. International Journal of Nursing Studies, 134, 104313. https://doi.org/10.1016/j.ijnurstu.2022.104313
Zhang, Y., Cheng, H. Y.*, Zang, Y., Choi, K. C., & Chair, S. Y. (2022). Food frequency questionnaire for dietary assessment among adults at a risk of coronary heart disease: A mixed‐methods study. Journal of Clinical Nursing, 00, 1–16. https://doi.org/10.1111/jocn.16298 *co-first author
Chair, S. Y., Cheng, H. Y., Choi, K.C., Siow, E. K. C., Cao, X., & Fung, E. (2021). Influenza-associated hospitalisations increase the risk of subsequent heart failure hospital admissions: A 20-year territory-wide registry study in Hong Kong. American Journal of Epidemiology, 190(5), 779–785. https://doi.org/10.1093/aje/kwaa263
Cheng, H. Y.*, Chau, H. C., Cheung, C. K. C., Yang, L. S., Lee, S. L., Leung, A. W. K., Li, C. K., Lam, T. T. N., Yeung, N. C. Y., & Cheung, Y. T. (2021). Perceptions of infertility risk among Chinese parents of children with cancer: A qualitative study. Journal of Adolescent and Young Adult Oncology. Advance online publication. https://doi.org/10.1089/jayao.2021.0106 *co-corresponding author
Chong, Y. Y., Chien, W. T., Cheng, H. Y., Kassianos, A. P., Gloster, A. T., & Karekla, M. (2021). Can psychological flexibility and prosociality mitigate illness perceptions towards COVID-19 on mental health? A cross-sectional study among Hong Kong adults. Globalisation and Health, 17, 43. https://doi.org/10.1186/s12992-021-00692-6
Fung, E., Cheng, H. Y.*, Choi, K. C., Hui, D. S. C., Yang, C., & Chair, S. Y. (2021). Differential risks for heart failure hospitalisation following severe respiratory infection by common pathogens. European Journal of Preventive Cardiology. https://doi.org/10.1093/eurjpc/zwab123 *co-corresponding author
Chong, Y. Y., Cheng, H. Y., Chan, H. Y. L., Chien, W. T., & Wong, S. Y. S. (2020). COVID-19 pandemic, infodemic and the role of eHealth literacy. (Guest editorial). International Journal of Nursing Studies, 108, 103644. https://doi.org/10.1016/j.ijnurstu.2020.103644
Cheng, H. Y., Chair, S. Y., Wang, Q., Cao, X., Cheng, L., & Lee, I. F. K. (2019). Measuring exercise self-efficacy in Hong Kong Chinese adults with cardiovascular risk: Validation of a Chinese version of the Cardiac Exercise Self-efficacy instrument. Research in Nursing and Health, 42(2), 148–154. https://doi.org/10.1002/nur.21936
Chien, W. T., Cheng, H. Y., MaMaster, T. W., Yip, A. L. K., & Wong, J. C. L. (2019). Effectiveness of a mindfulness-based psychoeducation group programme for early-stage schizophrenia: An 18-month randomised controlled trial. Schizophrenia Research, 212, 140–149. https://doi.org/10.1016/j.schres.2019.07.053