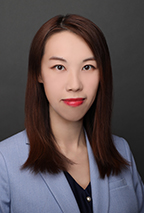 Table Header

Table Header

Family and child health
Acceptance and Commitment Therapy
Psychotherapies using acceptance, mindfulness and compassion-based approaches
Mental health
Professor Connie Chong is an Assistant Professor of the Nethersole School of Nursing, Faculty of Medicine, The Chinese University of Hong Kong. She is a registered nurse with clinical experience in medicine and paediatrics.
Professor Chong's research programme focuses on contextual behavioural science (CBS), especially the application and evaluation of Acceptance and Commitment Therapy, compassion-based and mindfulness-based interventions for family caregivers and children with chronic conditions. Through her publications, invited presentations, research awards and various external competitive grants from the Food and Health Bureau, Innovation and Technology Fund (ITF) and University Grants Committee (UGC), she has become one of the few local academics with expertise in the application of CBS research frameworks to the context of caregiving.
Apart from providing Acceptance and Commitment Therapy training to healthcare professionals and supervisions in CBS-related research, Professor Chong serves in different professional roles in promoting CBS internationally, including Co-Chair of the Awards Committee, Association for Contextual Behavioural Science, and the first Asian Editorial Board member of Journal of Contextual Behavioural Science.
| Sub Category | Awards & Honour |
| --- | --- |
| 研究奖项 | Early Career Mentorship Award, Association for Contextual Behavioural Science, USA (2021) |
| 研究奖项 | Dr. Barbara Kwok Young Postdoctoral Researcher Travel Grants, The Chinese University of Hong Kong (2019) |
| 研究奖项 | Personalised Learning Programme Fellowship in Psychiatry – Acceptance and Commitment Therapy, Toronto Western Hospital, University Health Network, Canada (2019) |
| 研究奖项 | Faculty Distinguished Thesis Award, Faculty of Health and Social Sciences (FHSS), The Hong Kong Polytechnic University (2018) |
| 研究奖项 | Early Career Research Paper Award, Association for Contextual Behavioural Science, USA (2018) |
| 研究奖项 | Pi Iota Chapter Scholarship Award, The Honour Society of Nursing, Sigma Theta Tau International (2018) |
| 研究奖项 | Michael J. Asher Student Dissertation Award, Association for Contextual Behavioural Science, USA (2018) |
| 研究奖项 | Student World Conference Scholarship Award, Association for Contextual Behavioural Science, USA (2015) |
Sub Category
Awards & Honours
荣誉委任
Consultant, Children and Family Service, Hong Kong Young Women's Christian Association
荣誉委任
Co-Chair, Awards Committee, Association for Contextual Behavioural Science, USA
荣誉委任
Research Development Grant Scheme Reviewer, Association for Contextual Behavioural Science, USA
编辑职务
Editorial Board Member of the following international journals:




Journal of Contextual Behavioural Science


Frontiers of Psychiatry


Frontiers in Public Health





编辑职务
Reviewers of various international journals, such as:




International Journal of Nursing Studies


Journal of Advanced Nursing


Stress and Health


PLOS ONE


BMJ Open


Journal of Transcultural Nursing


International Journal of Environmental Research and Public Health



专业服务
Member, Global Burden of Disease (GBD) Collaborators
专业服务
Fellow, The Royal Statistical Society, UK
专业服务
Trainee, Society for the Study of Psychiatry and Culture, USA
专业服务
Cochrane Stroke Group Member, The Cochrane Collaborations
专业服务
Asian Culture and CBS SIG Member, Hong Kong Chapter Member, Association for Contextual Behavioural Science, USA
专业服务
Professional Member, Association for Contextual Behavioral Science, USA
专业服务
Membership Subcommittee Coordinator, Hong Kong Society for Nursing Education
(最近五年以首席研究员或合作研究员身分获得之主要研究拨款)
| 拨款来源 | 项目名称 |
| --- | --- |
| Health and Medical Research Fund, Food and Health Bureau | An evaluation of the effectiveness of an acceptance-based adherence therapy for people with recent-onset psychosis: A randomised controlled trial |
| General Research Fund, University Grants Committee | FoStering psychosOcial weLlbeing of family caregivers of stroke surVivors using Emotion-centred, problem-solving approach (SoLVE): A randomised controlled trial |
| Innovation and Technology Fund for Better Living, The Lions Club of Hong Kong Sun; The Nethersole School of Nursing | iACT: A deep-learning mental health advisory system using Acceptance and Commitment Therapy for parents of children with special healthcare needs |
| Early Career Scheme, University Grants Committee | Effectiveness of Prosocial-orientated Acceptance and Commitment Training (PACT) programme for parents of children with special health care needs in response to outbreaks of novel infectious disease: A randomised controlled trial |
| Eidgenössische Technische Hochschule Zürich – Special COVID-19 Call for Project Grants with China, Japan, South Korea and the ASEAN Region | Building resilience and reducing burnout in frontline nurses combatting COVID-19 |
| Health and Medical Research Fund Research Fellowship Scheme, Food and Health Bureau | Effect of acceptance and commitment therapy-based lifestyle counselling programme for people with early psychosis on physical activity: A pilot randomised controlled trial |
| Health and Medical Research Fund, Food and Health Bureau | Effects of acceptance and commitment therapy-based asthma management training programme for parents of young children with neurodevelopmental comorbidities: A randomised controlled trial |
| Nethersole Institute of Continuing Holistic Health Education | Embodying a compassionate self through Acceptance and Commitment Therapy for parents and children with eczema: A family-based eczema management programme |
| The British Council – BRICKS Social Innovation Research Collaboration Platform | Exploring stakeholders' views, preferred structure and content of a blended (online and face-to-face) delivery-mode Acceptance and Commitment Therapy (ACT) for parents of children with autism spectrum disorder |
(最近三年发表的十篇主要论文)
Publications
Jin, X., Li, H., Chong, Y. Y., Mann, K. F., Yao, W., & Wong, C. L. (2022). Feasibility and preliminary effects of acceptance and commitment therapy on reducing psychological distress and improving the quality of life of the parents of children with cancer: A pilot randomised controlled trial. Psycho-Oncology. Advance online publication. https://doi.org/10.1002/pon.5941
Chong, Y. Y., Chien, W. T., Cheng, H. Y., Kassianos, A. P., Gloster, A., & Karekla, M. (2021). Can psychological flexibility and prosociality mitigate illness perceptions toward COVID-19 on mental health? A cross-sectional study among Hong Kong adults. Globalisation and Health, 17(43). https://doi.org/10.1186/s12992-021-00692-6
Chong, Y. Y., Chien, W. T., Cheng, H. Y., Lamnisos, D., Ļubenko, J., Presti, G., & Kassianos, A. P. (2021). Patterns of psychological responses among the public during the early phase of COVID-19: A cross-regional analysis. International Journal of Environmental Research and Public Health, 18(8), 4143. https://doi.org/10.3390/ijerph18084143
Li, H., Wong, C. L., Jin, X., Chen, J., Chong, Y. Y., & Bai, Y. (2021). Effects of Acceptance and Commitment Therapy on health-related outcomes for patients with advanced cancer: A systematic review. International Journal of Nursing Studies, 103876. https://doi.org/10.1016/j.ijnurstu.2021.103876
Ngan, H. Y., Chong, Y. Y., & Chien, W. T. (2021). Effects of mindfulness‐ and acceptance‐based interventions on diabetes distress and glycaemic level in people with type 2 diabetes: Systematic review and meta‐analysis. Diabetic Medicine, 38(4), e14525. https://doi.org/10.1111/dme.14525
Chong, Y. Y., Cheng, H. Y., Chan, H. Y. L., Chien, W. T., & Wong, S. Y. S. (2020). COVID-19 pandemic, infodemic and the role of eHealth literacy. International Journal of Nursing Studies, 108, 103644. https://doi.org/10.1016/j.ijnurstu.2020.103644
Chong, Y. Y., Chien, W. T., Cheng, H. Y., Chow, K. M., Kassianos, A., Karekla, M., & Gloster, A. (2020). The role of illness perceptions, coping and self-efficacy on adherence to precautionary measures for COVID-19. International Journal of Environmental Research and Public Health, 17, 6540. https://doi.org/10.3390/ijerph17186540
Chong, Y. Y., Mak, Y. W., & Loke, A. Y. (2020). The role of parental psychological flexibility in childhood asthma management: An analysis of cross-lagged panel models. Journal of Psychosomatic Research, 137, 110208. https://doi.org/10.1016/j.jpsychores.2020.110208
Gloster, A. T., Lamnisos, D., Lubenko, J., Presti, G., Squatrito, V., Constantinou, M., Nicolaou, C., Papacostas, S., Aydin, G., Chong, Y. Y., Chien, W. T., Cheng, H. Y., Ruiz, F. J., Garcia-Martin, M. B., Obando-Posada, D. P., Segura-Vargas, M. A., Vasiliou, V. S., McHugh, L., Hofer, S., Baban, A., Dias Neto, D., Nunes da Silva, A., Monestes, J. L., Alvarez-Galvez, J., Paez-Blarrina, M., Montesinos, F., Valdivia-Salas, S., Ori, D., Kleszcz, B., Lappalainen, R., Ivanovic, I., Gosar, D., Dionne, F., Merwin, R. M., Kassianos, A. P., & Karekla, M. (2020). Impact of COVID-19 pandemic on mental health: An international study. PLOS ONE, 15(12), e0244809. https://doi.org/10.1371/journal.pone.0244809
Chong, Y. Y., Mak, Y. W., Leung, S. P., Lam, S. Y., & Loke, A. Y. (2019). Acceptance and Commitment Therapy for parental management of childhood asthma: An RCT. Pediatrics, 143(2), e20181723. https://doi.org/10.1542/peds.2018-1723