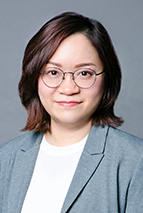 Table Header

Table Header

Gynecological cancer
Oncology
Gynecology
Obstetrics
Professor Chow Ka Ming is an Associate Professor of the Nethersole School of Nursing, Faculty of Medicine, The Chinese University of Hong Kong. She is a registered nurse and registered midwife with specialised training as a Sexuality Counsellor.
Professor Chow's research interest focuses on psychosocial care and symptom control for oncology patients, in particular sexuality care for female reproductive cancer patients. Her publications include interventional studies and review papers in peer-reviewed journals. She received a Young Investigator Award in 2013 and has been invited to present at various local and regional conferences.
In recent years, Professor Chow has successfully obtained research grants with a total amount exceeding HK$5.7 million from various funding agencies, including General Research Fund (GRF) and Health and Medical Research Fund (HMRF). She has extensively translated her research findings into high-quality clinical practice. She has also actively participated in teaching and learning research, and successfully obtained over HK$18.9 million funding from various teaching and learning funding schemes of the University Grants Committee and The Chinese University of Hong Kong.
Professor Chow is currently an academic editor, editorial board member and/or a reviewer for a number of peer-reviewed journals, such as Cancer Nursing, European Journal of Oncology Nursing, Journal of Clinical Nursing, and Journal of Advanced Nursing.
| Sub Category | Awards & Honour |
| --- | --- |
| 教学奖项 | Teacher of the Year Award: Year 3, Bachelor of Nursing Programme, The Nethersole School of Nursing, Faculty of Medicine, The Chinese University of Hong Kong (2017) |
| 教学奖项 | University Education Award, The Chinese University of Hong Kong (2016) |
| 研究奖项 | Internationalisation Faculty Mobility Scheme (Outbound) 2019-2020, The Chinese University of Hong Kong (July 2019) |
| 研究奖项 | Best Poster Presentation Award, The use of traditional Chinese medicine in preventing and managing oral ulceration: An exploratory study, 8th Nursing Symposium on Cancer Care, The Nethersole School of Nursing, Faculty of Medicine, The Chinese University of Hong Kong (May 2018) |
| 研究奖项 | Young Investigator Award, A psychoeducational intervention programme for gynaecological cancer patients in Hong Kong clinical setting: A pilot randomised controlled trial, 20th Hong Kong International Cancer Congress, The University of Hong Kong (November 2013) |
| 荣誉 | Fellow, Hong Kong Academy of Nursing in the specialty of Education & Research – Education (from 2018) |
| 荣誉 | Nurse Leader, Pi Iota At-Large Chapter, Sigma Theta Tau International Honour Society of Nursing |
| Sub Category | Awards & Honours |
| --- | --- |
| 编辑职务 | Academic Editor, PLOS ONE |
| 编辑职务 | Editorial Board Member, Advances in Life Science and Medicine (October 2014 – present) |
| 编辑职务 | Editorial Board Member, Archives of Nursing Practice and Care (April 2015 – present) |
| 编辑职务 | Reviewer, Journal of Clinical Nursing (March 2016 – present) |
| 编辑职务 | Reviewer, Asia-Pacific Journal of Oncology Nursing (April 2015 – present) |
| 编辑职务 | Reviewer, Journal of Advanced Nursing (September 2014 – present) |
| 编辑职务 | Reviewer, Cancer Nursing (May 2014 – present) |
| 编辑职务 | Reviewer, Contemporary Nurse (July 2017 – present) |
| 编辑职务 | Reviewer, European Journal of Oncology Nursing (November 2013 – present) |
| 编辑职务 | Reviewer, International Journal of Palliative Nursing (October 2013 – present) |
| 编辑职务 | Reviewer, Journal of Paediatrics and Child Health (June 2013 – present) |
| 编辑职务 | Reviewer, Journal of Research in Nursing (May 2013 – present) |
| 专业服务 | Vice-President and Education Committee Chairman, Hong Kong College of Education and Research in Nursing (HKCERN) |
| 专业服务 | Convenor, Sub-group for Review of Syllabi and Core-competencies for Training of Registered Nurse (General), Enrolled Nurse (General) and Simulation Training, The Nursing Council of Hong Kong (January 2021 – December 2021) |
| 专业服务 | Nurse Leader, Pi Iota At-Large Chapter, Sigma Theta Tau International Honour Society of Nursing |
| 专业服务 | Co-opt Member, Registered Nurse (General) Examination Subcommittee, Nursing Council of Hong Kong (19 March 2015 – present) |
| 专业服务 | Member, Development Committee, International Society of Nurses in Cancer Care (Nov 2016 – present) |
| 教学职务 | Convener, Cancer and Palliative Care Research Theme Group |
| 教学职务 | Teaching Engagement: Professor Chow is involved in teaching the Bachelor of Nursing Programme (BNurs), Master of Nursing Science (Pre-registration) Programme (MNSP), and MPhil-PhD in Nursing Programme. |
| 教学职务 | Postgraduate Supervision: Professor Chow is involved in supervising students from the Master of Nursing Programme (MNurs), Doctor of Nursing Programme (DNurs), and MPhil-PhD in Nursing Programme. |
| 教学职务 | Mentorship Experience: Professor Chow plays a key role in mentoring BNurs students enrolling in the Guided Research Scheme, and junior Professional Consultants of the Nethersole School of Nursing. |
(最近五年以首席研究员或合作研究员身分获得之主要研究拨款)
| 拨款来源 | 项目名称 |
| --- | --- |
| Private donation | A proactive child protection programme for mothers with psychological distress: A pilot project with outcome evaluation |
| Health and Medical Research Fund Research Fellowship Scheme 2018, Food and Health Bureau | Rebuilding sexuality and intimacy after treatment for gynaecological cancer, through a nurse-led sexual rehabilitation intervention: A randomised controlled trial |
| Health and Medical Research Fund Commissioned Project, Food and Health Bureau | Mothers' barriers to sustain exclusive breastfeeding in the first six months |
| General Research Fund, Research Grants Council | A practice model to enhance the provision of nursing care to manage sexual functioning in gynaecological cancer patients in Hong Kong |
| Funding Scheme for Teaching and Learning Related Proposals for 2016-19 Triennium, University Grants Committee | Enriching senior year places students' learning experience through curricular and co-curricular activities in Hong Kong's universities |
| S. K. Yee Medical Foundation | Development of a simulation learning unit for nursing education |
| Academic Equipment Grant 2018/19, The Chinese University of Hong Kong | High-fidelity patient simulation system |
| Teaching Development and Language Enhancement Grant for 2016-19 Triennium, The Chinese University of Hong Kong | Innovative mobile app by nursing students to implement community health education |
(最近三年发表的十篇主要论文)
Publications
Chow, K. M., Porter-Steele, J., Siu, K. Y., Choi, K. C., & Chan, C. W. H. (2022). A nurse-led sexual rehabilitation programme for rebuilding sexuality and intimacy after treatment for gynaecological cancer: Study protocol for a randomised controlled trial. Journal of Advanced Nursing, 78(5), 1503-1512. https://doi.org/10.1111/jan.15208
Chow, K. M., Chan, C. W. H., & Law, B. M. H. (2021). Perceptions of Chinese patients treated for gynaecological cancer about sexual health and sexual information provided by health care professionals: A qualitative study. Cancers, 13, 1654. https://doi.org/10.3390/cancers13071654
Tola, Y. O., Liang, W., & Chow, K. M.* (2021). Effects of non-pharmacological interventions on preoperative anxiety and postoperative pain in patients undergoing breast cancer surgery: A systematic review. Journal of Clinical Nursing. https://doi.org/10.1111/jocn.15827 (*corresponding author)
Chow, K. M., Tang, W. K., Tang, P. Y., & Leung, W. Y. (2020). Resilience building module for undergraduate nursing students: A mixed-methods evaluation. Nurse Education in Practice, 49, 102912. https://doi.org/10.1016/j.nepr.2020.102912
Wong, C. L., Chen, J., Chow, K. M.*, Law, B. M. H., Chan, D. N. S., So, W. K. W., Leung, A. W. Y., & Chan, C. W. H. (2020). Knowledge, attitudes and practices towards COVID-19 amongst ethnic minorities in Hong Kong. International Journal of Environmental Research and Public Health, 17(21), 7878. https://doi.org/10.3390/ijerph17217878 (*corresponding author)
Chow, K. M., Law, B. M. H., Ng, M. S. N., Chan, D. N. S.*, So, W. K. W., Wong, C. L., & Chan, C. W. H. (2020). A review of psychological issues among patients and healthcare staff during two major coronavirus disease outbreaks in China: Contributory factors and management strategies. International Journal of Environmental Research and Public Health, 17, 6673. https://doi.org/10.3390/ijerph17186673
Chow, K. M., Chan, C. W. H., Choi, K. C., White, I. D., Siu, K. Y., & Sin, W. H. (2020). A practice model of sexuality nursing care: A concept mapping approach. Supportive Care in Cancer, 1-11. https://doi.org/10.1007/s00520-020-05660-1
Chow, K. M., Chan, C. W. H., Choi, K. C., Siu, K. Y., Fung, H. K. S., & Sum, W. M. (2020). A theory-driven and evidence-based psycho-educational intervention programme for gynaecological cancer patients during treatment trajectory: A randomised controlled trial. Psycho-Oncology, 29, 437-443. https://doi.org/10.1002/pon.5284
Chow, K. M., Chan, C. W. H., Leung, A. W. Y., Wong, M. M. H., & Choi, K. C. (2019). Relationship between body image and health-related quality of life in Chinese cancer survivors during transitional cancer survivorship. Psycho-Oncology, 28(2), 324-328. https://doi.org/10.1002/pon.4943
Chow, K. M., Tang, W. K., Tang, P. Y., & Leung, W. Y. (2020). Resilience building module for undergraduate nursing students: A mixed-methods evaluation. Nurse Education in Practice, 49, 102912. https://doi.org/10.1016/j.nepr.2020.102912