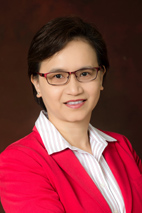 Table Header

Table Header

Cancer prevention
Symptom experience and management
Supportive care needs
Quality of life of cancer patients
Professor Winnie So is a Professor of the Nethersole School of Nursing at the Faculty of Medicine, The Chinese University of Hong Kong, and a Visiting Professor of the School of Nursing, Shandong University of Traditional Chinese Medicine. She received her Bachelor of Nursing degree from Deakin University, Australia in 1993; Master of Health Administration degree from The University of New South Wales, Australia in 1995; and Doctor of Philosophy degree from The University of Colorado Denver, United States in 2007.
Professor So's research interest focuses on cancer and palliative care, especially in relation to cancer prevention and early detection of cancer, supportive care needs, symptom experience, and quality of life of cancer patients. She has obtained more than 50 research and knowledge transfer grants with the total exceeding HK$20 million. She has published over 190 papers in peer-reviewed journals and delivered more than 110 invited presentations/lectures at national/international conferences, workshops, research Institutes and universities. She is also the Editor-in-Chief of Asia-Pacific Journal of Oncology Nursing.
Currently, Professor So is the President of International Society of Nurses in Cancer Care (ISNCC), the Immediate Past President of Asian Oncology Nursing Society (AONS), a Vice-President of the World Association for Chinese Quality of Life (WACQOL), and a Fellow of the American Academy of Nursing. She was the President of AONS in 2016-2019, a member of the Board of Directors (Communication Portfolio) of ISNCC in 2012-2016, and a Council Member of the Hong Kong College of Education and Research in Nursing in 2015-2017.
| Sub Category | Awards & Honour |
| --- | --- |
| 研究奖项 | Best Poster Presentation Award, Seventh Pan Pacific Nursing Conference, The Chinese University of Hong Kong (2021) |
| 研究奖项 | Faculty and Postgraduate Student Mobility Schemes, Mainland and Taiwan Strategic Partnership Development Programme 2020-2021 (2020) |
| 研究奖项 | Best Poster Presentation Award, Eighth Nursing Symposium on Cancer Care, The Chinese University of Hong Kong (2018) |
| 研究奖项 | Best Oral Presentation Award, Eighth Nursing Symposium on Cancer Care, The Chinese University of Hong Kong (2018) |
| 研究奖项 | Best Poster Award (1st Prize) for Clinical and Basic Research, South East Asia Breast Cancer Symposium, Myanmar (2017) |
| 研究奖项 | Best Poster Award (2nd Prize) for Social Science Research, South East Asia Breast Cancer Symposium, Myanmar (2017) |
| 研究奖项 | Outstanding Oral Presentation Award, International Conference of Optimising Healthcare Quality: Teamwork in Education, Research and Practice, Thailand (2016) |
| 研究奖项 | Doris Kemp-Smith Award 2006-2007, University of Colorado, Denver (2007) |
| 研究奖项 | Best Research Poster Award, 1st International Congress on Innovations in Nursing, Australia (2003) |
| 教学奖项 | Best Teacher Award (Master of Nursing Programme) 2020-2021, The Nethersole School of Nursing, The Chinese University of Hong Kong |
| 教学奖项 | Best Teacher Award (MPhil-PhD in Nursing Programme) 2018-2019, The Nethersole School of Nursing, The Chinese University of Hong Kong |
| 教学奖项 | Best Teacher Award (MPhil-PhD in Nursing Programme) 2017-2018, The Nethersole School of Nursing, The Chinese University of Hong Kong |
| 教学奖项 | Best Teacher Award (Doctor of Nursing and MPhil-PhD in Nursing Programmes) 2016-2017, The Nethersole School of Nursing, The Chinese University of Hong Kong |
| 业界奖项 | Winner of WHO Western Pacific Region Innovation Challenge (Feb 2022) |
| 业界奖项 | Fellow Recognition Award: Gold Merit Award, The Hong Kong Academy of Nursing (November 2018) |
| 荣誉 | Fellow, American Academy of Nursing (2020) |
| 荣誉 | Fellow, The Hong Kong Academy of Nursing (Research & Education – Education) (2012 – present) |
Sub Category
Awards & Honours
荣誉委任
Visiting Fellow, School of Nursing, Queensland University of Technology (2018)
荣誉委任
Visiting Professor, School of Nursing, Shandong University of Traditional Chinese Medicine (2017 – present)
荣誉委任
Visiting Associate Professor, Union Hospital, Hong Kong (2015 – 2019)
编辑职务
Editor-in-Chief, Asia-Pacific Journal of Oncology Nursing (December 2019 – present)
编辑职务
Associate Editor, Cancer Nursing (August 2020 – June 2023)
编辑职务
Associate Editor, Cancer Care Research Online/ (November 2020 – June 2023)
专业服务
Temporary Advisor, Second Innovation Forum, The World Health Organization (WHO) Regional Office for the Western Pacific (28-29 April 2022)
专业服务
External Examiner:




School of Nursing and Midwifery, Monash University (2021)


School of Nursing, The University of Hong Kong (2019-2020)


Australian National University Medical School (2018)


School of Public Health, The University of Hong Kong (2017)


Hong Kong College of Medical Nursing (HKCMN) (2015-2019)


School of Nursing, The Hong Kong Polytechnic University (2014, 2020 & 2021)


Alice Lee Centre for Nursing Studies, National University of Singapore (2014)


The Open University of Hong Kong (2010-2015)



教学职务
Programme Teaching




Doctor of Philosophy in Nursing (PhD in Nursing) (2015 – present)


Doctor of Nursing Programme (DNurs) (2009 – present)


Master of Nursing Programme (MNurs) (2007 – present)


Master of Nursing Science (Pre-registration) Programme (MNSP) (2010 – 2019)


Bachelor of Nursing Programme (BNurs) (2001 – 2016)


Bachelor of Science in Gerontology (BScG) (2013 – 2019)


Professional Diploma Programme in Advanced Nursing Practice (2014 – 2020)


Advanced Diploma in Oncology Nursing (2010 – 2011)


Professional Certificate Programme in Nursing Leadership and Management (2018 – 2019)



教学职务
Postgraduate Supervision: Professor So successfully supervised 4 PhD and 5 DNurs students. Currently, 6 PhD and 4 DNurs students are under her supervision.
教学职务
Programme Leadership




Programme Director, Master of Nursing Programme (2020 – present)


Programme Director, MPhil-PhD Programme (2015 – 2020)


Programme Director, Doctor of Nursing Programme (2015 – 2020)


Assistant Programme Coordinator, Doctor of Nursing Programmme (2011 – 2015)


Programme Coordinator, Master of Nursing Programme (2012 – 2015)


Programme Coordinator, Professional Diploma Programme in Advanced Nursing Practice (2014 – 2015)


Programme Coordinator, Advanced Diploma in Oncology Nursing (2010 – 2011)


(最近五年以首席研究员或合作研究员身分获得之主要研究拨款)
| 拨款来源 | 项目名称 |
| --- | --- |
| Knowledge Transfer Project Fund, The Chinese University of Hong Kong | A training programme for community health workers in promoting cervical cancer screening among South Asian ethnic minorities in Hong Kong |
| Knowledge Transfer Project Fund, The Chinese University of Hong Kong | Promotion of palliative care and advance directives in the South Asian ethnic minority population of Hong Kong |
| Teaching Development and Language Enhancement Grant (TDLEG) for the 2019-22 Triennium | Development of competencies in advanced nursing practice at high-fidelity simulation ward |
| Teaching Development and Language Enhancement Grant (TDLEG) for the 2019-22 Triennium | Enhancing cultural sensitivity among healthcare professionals |
| Funding Programme of Research Projects on Equal Opportunities 2020-2021, Equal Opportunities Commission | An exploration of the challenges and enablers of parental HPV vaccination decision for adolescent daughters among South Asian ethnic minorities in Hong Kong |
| Research Committee's One-off Impact Enhancement Fund, Faculty of Medicine, The Chinese University of Hong Kong | Improving ethnic minority's accessibility of cancer screening services through collaboration with community partners and co-design of evidence-based education programme |
| China Medical Board Open Competition Programme | Development and evaluation of a financial navigation programme for improving financial toxicity among patients with breast cancer in China |
| Health and Medical Research Fund, Food and Health Bureau | Effects of immersive virtual reality for preventing and managing anxiety, nausea and vomiting among paediatric cancer patients receiving their first chemotherapy: An exploratory trial |
| Health Care and Promotion Scheme, Food and Health Bureau | Effect of a family-based multimedia intervention on the uptake of colorectal cancer screening among South Asian older adults in Hong Kong: A randomised controlled trial |
| Health Care and Promotion Scheme, Food and Health Bureau | A community health worker-led multimedia intervention to increase cervical cancer screening uptake among South Asians women: A randomised controlled trial |
| Catalyst Seeding Fund, Royal Society of New Zealand | Harmonising principles, processes and outcome measures to enable culturally specific health promotion after breast cancer |
| Pneumoconiosis Compensation Fund Board Research Fund | Development of multimedia educational intervention to promote pneumoconiosis prevention among South Asian construction workers in Hong Kong |
(最近三年发表的十篇主要论文)
Publications
Bai, Y., Wong, C. L., Peng, X., Choi, K. C., & So, W. K. W. (2022). Effectiveness of a tailored communication intervention on colonoscopy uptake for first-degree relatives of colorectal cancer patients: A randomised controlled trial. Asia-Pacific Journal of Oncology Nursing, 9(9), 100068. https://doi.org/10.1016/j.apjon.2022.04.007
Chan, D. N. S. & So, W. K. W. (2022). Influential barriers perceived by South Asians in Hong Kong to undergoing cervical cancer screening. European Journal of Cancer Care, 31(2), e13556. https://doi.org/10.1111/ecc.13556
So, W. K. W., Chan, D. N. S., Law, B. M. H., Chow, K. C., Krishnasamy, M., & Chan, C. W. H. (2022). Effect of a family-based multimedia intervention on the uptake of faecal immunohistochemical test among South Asian older adults: A cluster-randomised controlled trial. International Journal of Nursing Studies, 132, 104254. https://doi.org/10.1016/j.ijnurstu.2022.104254
Milanti, A., Chan, D. N. S., Li, C., & So, W. K. W. (2021). Actigraphy-measured rest-activity circadian rhythm disruption in patients with advanced cancer: A scoping review. Supportive Care in Cancer. 29, 7145-7169. https://doi.org/10.1007/s00520-021-06317-3
So, W. K. W., Law, B. M. H., Ng, M. S. N., He, X., Chan, D. N. S., Chan, C. W. H., & McCarthy, A. L. (2021). Symptom clusters experienced by breast cancer patients at various treatment stages: A systematic review. Cancer Medicine, 10(8), 2531-2565. https://doi.org/10.1002/cam4.3794
So, W. K. W., Law, B. M. H., Chan, C. W. H., Leung, D. Y. P., Chan, H. Y. L., & Chair, S. Y. (2020). Development and evaluation of a multimedia intervention to promote cervical cancer prevention among South Asian women in Hong Kong. Ethnicity and Health. 22(2), 284-296. https://doi.org/10.1080/13557858.2019.1687657
So, W. K. W., Law, B. M. H., Chan, D. N. S., Xing, W., Chan, C. W. H., & McCarthy, A. L. (2020). The effect of nonpharmacological interventions on managing symptom clusters among cancer patients: A systematic review. Cancer Nursing, 43(6), E304-E327. https://doi.org/10.1097/NCC.0000000000000730
So, W. K. W., Law, B. M. H., Chow, K. C., Chan, D. N. S., & Chan, C. W. H. (2020). A mixed-method study examining cancer screening uptake among South Asian ethnic minorities in Hong Kong. Asia-Pacific Journal of Oncology Nursing, 7(1), 12-17. https://doi.org/10.4103/apjon.apjon_36_19
Yates, P., Charalambous, A., Fennimore, L., Nevidjon, B., So, W. K. W., Suh, E. E., Woodford, E., & Young A. (2020). Position Statement on cancer nursing's potential to reduce the growing burden of cancer across the world. Cancer Nursing, 43(6), 433-435. https://doi.org/10.1097/NCC.0000000000000900 (Joint publication with Asia-Pacific Journal of Oncology Nursing, European Journal of Oncology Nursing, Oncology Nursing Forum, & Supportive Care in Cancer)
Young, A. M., Charalambous, A., Owen, R. I., Njodzeka, B., Oldenmenger, W. H., Alqudimat, M. R., & So, W. K. W. (2020). Harnessing the power of global oncology nursing to shape the future of cancer care (series). Paper 1: Essential oncology nursing care along the cancer continuum. The Lancet Oncology, 21(12), e555-563. https://doi.org/10.1016/S1470-2045(20)30612-4