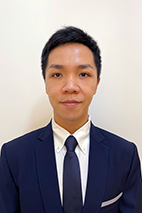 Table Header

Table Header

Cardiovascular care
Gerontological nursing
Systematic review
Professor Alan Tam is a Research Assistant Professor of the Nethersole School of Nursing, Faculty of Medicine, The Chinese University of Hong Kong. He received his Master of Science in Advancing Nursing Practice degree from the University of Edinburgh, and completed his PhD studies at the Hong Kong Polytechnic University. He received competitive governmental scholarships for pursuing his master's and PhD studies.
Professor Tam has extensive clinical experience in emergency care. His research interests focus on cardiovascular diseases — the leading cause of burden and death worldwide, and gerontology — a global issue of ageing. Professor Tam has published actively in international peer-reviewed journals, such as Archives of Gerontology and Geriatrics and Worldviews on Evidence-based Nursing. He also serves as a reviewer for several high impact peer-reviewed journals.
| Sub Category | Awards & Honour |
| --- | --- |
| 研究奖项 | Distinguished Postgraduate Scholarship (Doctoral degree), Education and Youth Development Bureau, Government of the Macao Special Administrative Region (2019) |
| 研究奖项 | Distinguished Postgraduate Scholarship (Master's degree), Education and Youth Development Bureau, Government of the Macao Special Administrative Region (2014) |
Sub Category
Awards & Honours
编辑职务
Editorial Board Member, International Journal of Environmental Research and Public Health (since 2022)
编辑职务
Editorial Board Member, Journal of Modern Nursing Practice and Research (since 2022)
编辑职务
Reviewer of the following selected journals:




Clinical Nursing Research (since 2022)


International Journal of Qualitative Studies on Health and Well-being (since 2022)


Archives of Gerontology and Geriatrics (since 2021)


Frontiers in Public Health (since 2021)


Journal of Medical Internet Research (since 2021)


Journal of Advanced Nursing (since 2020)


JMIR mHealth and uHealth (since 2020)



专业服务
Co-opted member, Hong Kong Society for Nursing Education Limited (since 2020)
(最近三年发表的十篇主要论文)
Publications
Leung, L. Y. L., Chan, S. M. N., Tam, H. L., & Wong, E. S.W. (2022). Astaxanthin influence on health outcomes of adults at risk of metabolic syndrome: A systematic review and meta-analysis. Nutrients, 14(10), 2050. https://doi.org/10.3390/nu14102050
Leung, L. Y. L., Tam, H. L., & Ho, J. K. M. (2022). Effectiveness of Tai Chi on older adults: A systematic review of systematic reviews with re-meta-analysis. Archives of Gerontology and Geriatrics, 103, 104796. https://doi.org/10.1016/j.archger.2022.104796
Tam, H. L., Leung, L. Y. L., Wong, E. M. L., Cheung, K., & Chan, A. S. W. (2022). Integration of text messaging intervention into hypertension management among older adults: A systematic review and meta-analysis. Worldviews on Evidence-based Nursing, 19(1), 16-27. https://doi.org/10.1111/wvn.12549
Tam, H. L., Chung, S. F., & Wang, Q. (2022). Urban-rural disparities in hypertension management among middle-aged and older patients: Results of a 2018 Chinese national study. Chronic Illness. https://doi.org/10.1177/17423953221102627
Chan, A. S. W., Ho, J. M. C., Li, J. S. F., Tam, H. L., & Tang, P. M. K. (2021). Impacts of COVID-19 pandemic on psychological well-being of older chronic kidney disease patients. Frontiers in Medicine, 8, 666973. https://doi.org/10.3389/fmed.2021.666973
Mao, A., Cheong, P. L., Van, I.K., & Tam, H. L. (2021). "I am called girl, but that doesn't matter" - perspectives of male nurses regarding gender-related advantages and disadvantages in professional development. BMC Nursing, 20, 24. https://doi.org/10.1186/s12912-021-00539-w
Mao, A., Tam, H. L., Cheong, P. L., & Van, I. K. (2021). "You need to get over the difficulties and stand up again" — A qualitative inquiry into young nurses' coping with lateral violence from the feminist perspective. International Journal of Environmental Research and Public Health, 18(13), 7167. https://doi.org/10.3390/ijerph18137167
Wong, E. M. L., Leung, D. Y. P., Tam, H. L., Wang, Q., Yeung, K. W., & Leung, A. Y. M. (2021). The effect of a lifestyle intervention programme using a mobile application for adults with metabolic syndrome, versus the effect of a programme using a booklet: A pilot randomised controlled trial. Clinical Interventions in Ageing, 16, 633-644. https://doi.org/10.2147/CIA.S303920
Tam, H. L., Wong, E. M. L., & Cheung, K. (2020). Effectiveness of educational interventions on adherence to lifestyle modifications among hypertensive patients: An integrative review. International Journal of Environmental Research and Public Health, 17(7), 2513. https://doi.org/10.3390/ijerph17072513
Tam, H. L., Mao, A., Cheong, P. L., & Van, I. K. (2020). "My friends are at the bottom of my schedule": A qualitative study on social health among nursing students during clinical placement. International Journal of Environmental Research and Public Health, 17(18), 6921. https://doi.org/10.3390/ijerph17186921