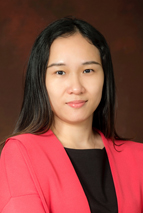 Table Header

Table Header

Cancer Nursing
Pediatric and Adolescent Care
Professor Jojo Wong received her Bachelor of Nursing degree and Doctor of Philosophy in Nursing degree from the Nethersole School of Nursing, Faculty of Medicine, The Chinese University of Hong Kong (CUHK). Her research interests focus on cancer and peadiatric care. She is also interested in using innovative technologies in her research and education projects. She has successfully obtained research grants with the total amount exceeding HK$4 million from various funding sources. She is currently working on several virtual reality-related research projects that engage users in an immersive environment to distract them from medical procedures.
Professor Wong has been teaching at CUHK for 15 years and is a Fellow of the Hong Kong Academy of Nursing in the specialty of Education. She teaches both undergraduate and postgraduate programmes in the School. She received the Vice-Chancellor's Exemplary Teaching Award in 2020 and nine Teacher of the Year Awards from the Faculty of Medicine, CUHK. She was also a member of the School team in winning the University Education Award in 2016. With the support of teaching grants, she has developed several virtual reality coursewares to teach students about patient safety and nursing procedures.
| Sub Category | Awards & Honour |
| --- | --- |
| 教学奖项 | Vice-Chancellor's Exemplary Teaching Award, The Chinese University of Hong Kong (2020) |
| 教学奖项 | Teacher of the Year Awards, Faculty of Medicine, The Chinese University of Hong Kong (2011, 2013, & 2015–2022) |
| 教学奖项 | Best Teacher Award, Master of Nursing Programme, The Nethersole School of Nursing, Faculty of Medicine, The Chinese University of Hong Kong (2016 – 2017) |
| 教学奖项 | University Education Award, The Chinese University of Hong Kong (2016) |
| 研究奖项 | Poster Commendation Award, Teaching and Learning Innovation Expo 2018, The Chinese University of Hong Kong (2018) |
| 研究奖项 | Young Investigator Award, American Pain Society (2012) |
| 荣誉 | CUHK Nethersole School of Nursing 30th Anniversary Outstanding Alumni Awards – Distinguished Alumni Award, The Nethersole School of Nursing, Faculty of Medicine, The Chinese University of Hong Kong (2021) |
| 荣誉 | Fellow, Hong Kong Academy of Nursing in the specialty of Education & Research – Education (2018 – present) |
Sub Category
Awards & Honours
编辑职务
Member, Central Institutional Review Board, Hospital Authority (Apr 2021 – Mar 2024)
编辑职务
Associate Editor, Trials (Oct 2020 – present)
编辑职务
Associate Editor, Journal of Child Health Care (Jun 2019 – present)
编辑职务
Scientific Committee Member, Hong Kong Palliative Nursing Association (Jan 2019 – present)
编辑职务
Official Reviewer, Cancer Nursing (2018 – present)
专业服务
Chair, Examination Committee, Hong Kong College of Education and Research in Nursing (Mar 2020 – present)
专业服务
Treasurer, 7th Pan-Pacific Nursing Conference, The Nethersole School of Nursing, Faculty of Medicine, The Chinese University of Hong Kong (2021)
专业服务
Coordinator, Management Subcommittee, First Cochrane Hong Kong Symposium, The Nethersole School of Nursing, Faculty of Medicine, The Chinese University of Hong Kong (2019)
专业服务
Chairperson, 8th Nursing Symposium on Cancer Care, The Nethersole School of Nursing, Faculty of Medicine, The Chinese University of Hong Kong (2018)
专业服务
Chairperson, Community Caring Day cum CUHK Nethersole School of Nursing Alumni Carnival, The Nethersole School of Nursing, Faculty of Medicine, The Chinese University of Hong Kong (2016)
专业服务
Coordinator, Social Subcommittee, Sixth Pan-Pacific Nursing Conference and First Colloquium on Chronic Illness Care, The Nethersole School of Nursing, Faculty of Medicine, The Chinese University of Hong Kong (2016)
教学职务
Assistant Programme Director (Education – Lab), Bachelor of Nursing (BNurs) Programme
教学职务
Year One Coordinator, BNurs Programme
教学职务
Teaching Programmes




BNurs Programme


Master of Nursing Science (Pre-registration) (MNSP) Programme


Master of Nursing (MNurs) Programme


Master of Philosophy-Doctor of Philosophy (MPhil-PhD) in Nursing Programme



教学职务
Postgraduate Supervision




MNurs Programme


Doctor of Nursing (DNurs) Programme


MPhil-PhD in Nursing Programme


(最近五年以首席研究员或合作研究员身分获得之主要研究拨款)
| 拨款来源 | 项目名称 |
| --- | --- |
| Health and Medical Research Fund, Food and Health Bureau | Effects of smartphone-based chatbot intervention to increase influenza and COVID-19 vaccine uptake among South Asians: A wait-list randomised controlled trial |
| Knowledge Transfer Project Fund, CUHK | A training programme for community health workers in promoting cervical cancer screening among South Asian ethnic minorities in Hong Kong |
| Nethersole Institute of Continuing Holistic Health Education Research Grant | Understanding the experience of cancer survivorship among adolescent cancer survivors and their parents through camera lenses: A Photovoice study |
| Health and Medical Research Fund, Food and Health Bureau | Effects of immersive virtual reality for alleviating anxiety, nausea and vomiting among paediatric cancer patients receiving their first chemotherapy: A randomized controlled trial |
| Courseware Development Grant Scheme (2019-22), CUHK | The operation theatre inside out: 360-degree virtual tours |
| University Research Committee Small and Mid-range Grant Program, Baylor University | An international and interdisciplinary research collaboration for noncommunicable disease prevention using mHealth: A pilot study among Indian migrants to Hong Kong |
| Health and Medical Research Fund, Food and Health Bureau | Effects of immersive virtual reality for preventing and managing anxiety, nausea and vomiting among paediatric cancer patients receiving their first chemotherapy: An exploratory trial |
| Early Career Scheme, University Grants Committee | Effects of immersive virtual reality intervention on pain and anxiety among paediatric patients undergoing venipuncture: A randomized controlled trial |
| Courseware Development Grant Scheme (2018-19), CUHK | Virtual reality courseware for pediatric nursing |
| Direct Grant, Faculty of Medicine, CUHK | Effects of immersive virtual reality intervention on pain and anxiety among paediatric cancer patients undergoing peripheral intravenous cannulation: A pilot randomized controlled trial |
| Health Care and Promotion Scheme, Food and Health Bureau | A community health worker-led multimedia intervention to increase cervical cancer screening uptake among South Asians women: A randomized controlled trial |
| Micro-Module Courseware Development Grant, CUHK | Meeting safety needs through virtual reality apps |
| Pneumoconiosis Compensation Fund | Development of multimedia educational intervention to promote pneumoconiosis prevention among South Asian construction workers in Hong Kong |
(最近三年发表的十篇主要论文)
Publications
Jin, X., Li, H., Chong, Y. Y., Mann, K. F., Yao, W., & Wong, C. L.* (2022). Feasibility and preliminary effects of Acceptance and Commitment Therapy on reducing psychological distress and improving the quality of life of the parents of children with cancer: A pilot randomised controlled trial. Psycho-Oncology. https://doi.org/10.1002/pon.5941
Wong, C. L., Leung, A. W. Y., Chan, D. N. S., Chow, K. M., Chan, C. W. H., Ng, M. S. N., & So, W. K. W. (2022). Psychological well-being and associated factors among ethnic minorities during the COVID-19 pandemic. Journal of Immigrant and Minority Health, 1-11. Advance online publication. https://doi.org/10.1007/s10903-022-01347-3
Wong, C. L., Leung, A. W. Y., Chung, O. M. H., & Chien, W. T. (2022). Factors influencing COVID-19 vaccination uptake among community members in Hong Kong: A cross-sectional online survey. BMJ Open, 12(2), e058416. https://doi.org/10.1136/bmjopen-2021-058416
Wong, C. L., Choi, K. C., Chen, J, Law, B. M. H., Chan, D. N. S., & So, W. K. W. (2021). A community health worker-led multicomponent programme to promote cervical cancer screening in South Asian women: A cluster-randomised controlled trial. American Journal of Preventive Medicine, 61(1), 136-145. https://doi.org/10.1016/j.amepre.2021.01.031
Wong, C. L., Li, C. K., Choi, K. C., So, W. K. W., Kwok, J. Y. Y., Cheung, Y. T., & Chan, C. W. H. (2021). Effects of immersive virtual reality for preventing and managing anxiety, nausea and vomiting among paediatric cancer patients receiving their first chemotherapy: A study protocol for an exploratory trial. PLOS ONE, 16(10), e0258514. https://doi.org/10.1371/journal.pone.0258514
Wong, C. L., Chen, J., So, W. K. W., & Leung, D. Y. P. (2020). Mediation and moderation of an educational intervention for improving intention to practise pneumoconiosis prevention among South Asian construction workers. Journal of Occupational and Environmental Medicine, 62(12), e704-e709. https://doi.org/10.1097/JOM.0000000000002034
Wong, C. L., Li, C. K., Chan, C. W. H., Choi, K. C., Chen, J., Yeung, M. T., & Chan, O. N. (2020). Virtual reality intervention targeting pain and anxiety among paediatric cancer patients undergoing peripheral intravenous cannulation: A randomised controlled trial. Cancer Nursing. 44(6), 435-442. https://doi.org/10.1097/NCC.0000000000000844
Wong, C. L., Rana, T., & Leung, Y. M. (2020). Eye tracking to evaluate the usability of an online pneumoconiosis education booklet in a sample of South Asian construction workers. CIN, Computers, Informatics, Nursing, 38(12), 638-645. https://doi.org/10.1097/CIN.0000000000000635
Wong, C. L., Choi, K. C., Law, B. M. H., Chan, D. N. S., & So, W. K. W. (2019). Effects of a community health worker-led multimedia intervention on the uptake of cervical cancer screening among South Asian women: A pilot randomised controlled trial. International Journal of Environmental Research and Public Health, 16(17), 3072. https://doi.org/10.3390/ijerph16173072
Wong, C. L., Lui, M. M. W., & Choi, K. C. (2019). Effects of immersive virtual reality intervention on pain and anxiety among paediatric patients undergoing venepuncture: A study protocol for a randomised controlled trial. Trials, 20(1), 369. https://doi.org/10.1186/s13063-019-3443-z