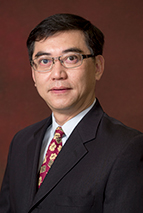 Table Header

Table Header

Mental health
Family and psychosocial interventions for psychotic disorders
Systematic review and instrument validation
Professor Chien Wai Tong is the Director of the Nethersole School of Nursing, Faculty of Medicine, The Chinese University of Hong Kong (CUHK). He is also the Director of Asia-Pacific Genomic and Genetic Nursing Centre and the Co-Director of Cochrane Hong Kong at the School and Cochrane China Network, an Affiliate and a regional Network of Cochrane, respectively. Before taking up the directorship, he was the Vice-Director of Research and the Head of Graduate Division of the School. Previously, he was a Professor in the School of Nursing (2010-2018) and was appointed as the Associate Head (2014-2017) and Associate Dean (2017-2018), Faculty of Health and Social Sciences at The Hong Kong Polytechnic University (PolyU). As an advanced mental health nursing practitioner and active researcher, Professor Chien has strived to improve mental health in his native city Hong Kong, China in the past 30 years through research, advocacy, and mental health promotion. He has established and tested the effects of psychoeducation, motivational interviewing, mindfulness-based bibliotherapy, mutual support, and other psychosocial interventions for community-dwelling people with mental health problems and their family members in Chinese communities.
Professor Chien has been an active academic and researcher. He led the Mental Health Research Groups for the past 20 years and provided consultancy services and staff training in non-governmental mental health care agencies in Hong Kong, the mainland China and Southeast Asia. He obtained the Fellowship of the American Academy of Nursing (2018) and Grandfather Fellowship of the Hong Kong Academy of Nursing in Education and Research (2012). He also received the Excellent Research Award from the Health and Medical Research Fund, Food and Health Bureau in 2018, and the Research Scholarship Award (Community Leader), Pi Iota Chapter of Sigma Theta Tau International Honour Society of Nursing in 2009. Moreover, he was honoured with Distinguished Alumni Awards by Schools of Nursing, CUHK (March 2017) and PolyU (July 2017). He has contributed to the development of education curriculum, licensure and practice guidelines of psychiatric/mental health nursing, and reviews of research proposals/publications in national/international nursing councils and/or funding bodies.
Professor Chien has also served as an editor or editorial board member for several international refereed nursing and health care journals. He has obtained over 45 external competitive and 30 collaborative health research grants with the total exceeding HK$36,000,000 (>US$4,600,000) and published over 220 articles in peer-reviewed international nursing and psychiatric care journals, as well as a substantial number of conference papers, newspaper clips, and books (and book chapters).
| Sub Category | Awards & Honour |
| --- | --- |
| 教学奖项 | Overseas Scholarship Scheme (Teaching Development) and Implementation Fund, Teaching and Learning Grant, PolyU (February 2015 – July 2016), Topic: 'Learning and sharing in mental health nursing education and research' |
| 教学奖项 | Best Teacher Award 2020-2021, The Nethersole School of Nursing, Faculty of Medicine, CUHK |
| 教学奖项 | Teacher of the Year Awards 2008-2009, 2006-2007 and 2003-2004, Faculty of Medicine, CUHK |
| 教学奖项 | Courseware Development Grant Scheme funded by the Teaching Development Grants, CUHK (1998-2001) |
| 研究奖项 | Excellent Research Award, Health and Medical Research Fund, Food and Health Bureau, The Government of the Hong Kong SAR, PR China, presented at the Health Research Symposium 2019 (June 2019) |
| 研究奖项 | International Faculty Mobility Scheme (Outbound) for 2019-2020, Office of Academic Links, CUHK (Visit to La Trobe University, Australia for 7 days) for research collaboration |
| 研究奖项 | Best Oral and Poster Presentation Awards, presented at the 20th and 21st East Asian Forum of Nursing Scholars (EAFONS) in 2017 and 2018, and the 7th Pan-Pacific Nursing Conference (2021) |
| 研究奖项 | Postgraduate Research Sponsorship, Pi Iota Chapter, Sigma Theta Tau International Honour Society of Nursing (May 2014) |
| 研究奖项 | First Prize, Award for the Best Poster Presentation, Nurses' Session, Joint Annual Scientific Meeting 2011, The Hong Kong Paediatric Society & American Academy of Paediatrics (2011) |
| 研究奖项 | Research Scholarship Award 2008-2009 (Community Leader), Pi Iota Chapter, Sigma Theta Tau International Honour Society of Nursing (May 2009) |
| 研究奖项 | Staff Development Grant 2002-2003 and 2004-2005 provided to pursue the PhD programme at the King's College London, under the CY Kwan/ Lee Hysan Foundation Endowment Funds/ Sino-British Fellowship Trust Fund |
| 业界奖项 | Project Coordinator, on a grant of HK$924,000 funded by the Professional Services Advancement Support Scheme ('PASS'「專業服務協進支援計劃」), Commerce, Industry and Tourism Branch of the Commence and Economic Development Bureau, The Government of the Hong Kong SAR for the project 'Paving the way for and achieving excellence on evidence-informed health care in the Belt and Road regions', and a sponsorship from The S. H. Ho Foundation |
| 业界奖项 | Outstanding Nursing Alumni, School of Nursing (40th Anniversary), Faculty of Health and Social Sciences, PolyU (October 2017) |
| 业界奖项 | Distinguished Alumni Award, The Nethersole School of Nursing 25th Anniversary Outstanding Alumni Awards, Faculty of Medicine, CUHK (October 2016) |
| 荣誉 | The World's Top 2% Most-cited Scientists in Nursing (2021), Stanford University |
| 荣誉 | Fellow, American Academy of Nursing (November 2018) |
| 荣誉 | Grandfather Fellow, The Hong Kong College of Education and Research in Nursing, The Hong Kong Academy of Nursing (March 2012) |
| 荣誉 | Nominated Nurse Leader (HK), Global Nursing Leadership Institute Programme 2011, International Council of Nurses, Geneva, Switzerland (September 2011) |
| 荣誉 | Certified Teacher of Nurses and Clinical Assessor (Psychiatric), The Nursing Council of Hong Kong (1996) |
Sub Category
Awards & Honours
荣誉委任
Visiting Professor, School of Nursing, Guangzhou Medical University, PR China
荣誉委任
Visiting Professor, School of Nursing, Zhejiang University City College, Zhejiang, PR China
荣誉委任
Member, Expert Advisory Panel in Mental Health, Health and Medical Research Fund (HMRF), Research Office, Food and Health Bureau, The Government of the HKSAR, PR China to provide advisory support to the HMRF
荣誉委任
Expert Advisor, The Ombudsman, Hong Kong, 30/F, China Merchants Tower, Shun Tak Centre, Hong Kong
编辑职务
Associate Editor, Schizophrenia and Social Psychiatry and Psychiatric Rehabilitation specialty sections of Frontiers in Psychiatry, Frontiers Publishers, Lausanne, Switzerland
编辑职务
Associate Editor, Trials, BioMed Central Ltd.
编辑职务
Associate Editor, Alpha Psychiatry [Anatolian Journal of Psychiatry], AVES, Turkey
编辑职务
Guest Editor, Special Issue on Child and Youth Mental and Brain Health, International Journal of Environmental Research and Public Health, Multidisciplinary Digital Publishing Institute (MDPI), Switzerland
编辑职务
Editorial Board Member of several international journals, such as:




Neuropsychiatric Disease and Treatment, Dove Press


Asian Nursing Research, Korean Society of Nursing Science & Elsevier Ltd.


International Journal of Multiple Research Approaches, eContent Management Pty Ltd.


Chinese Journal of Modern Nursing 《中华现代护理杂志》





专业服务
Member, Assessment Panel of the Public Policy Research (PPR) Funding Scheme and the Strategic Public Policy Research (SPPR) Funding Scheme, Policy Innovation and Coordination Office (PICO), The Government of the HKSAR
专业服务
Member, Research Committee, Nethersole Institute of Continuing Holistic Health Education (NICHE), appointed by the Steering Committee of NICHE
专业服务
Member, The International Trauma Consortium, a collaboration of researchers and clinicians with the aim of advancing research in global psycho-traumatology through improved methods of describing, assessing, explaining, and treating trauma-related psychopathology
专业服务
Member, Cochrane, a global independent network of researchers, professionals, patients, carers and people interested in health
专业服务
Member, Alice Ho Miu Ling Nethersole Charity Foundation (2022)
专业服务
Member, Global Burden of Diseases (GBD) Collaborator Network for improving global burden of diseases
专业服务
Honorary/Expert Advisor of the following professional associations and charitable organisations in Hong Kong:




The Hong Kong Society for Nursing Education


The Hong Kong College of Medical Nursing


The Hong Kong College of Orthopaedic Nursing


The Hong Kong College of Surgical Nursing


The Hong Kong Association of Renal Nurses


Service Advisory Committee, The Salvation Army - Hong Kong and Macau Command



专业服务
Founding Member, Asia Pacific Child and Adolescent Health Research Network (Australia, China, Japan, Hong Kong, Malaysia, Philippines, Taiwan, and Thailand)
专业服务
Task Force for review of the guide to 'Physical Restraint', Professional Development Committee, The Nursing Council of Hong Kong
教学职务
Member of the following University/Faculty committees:




Senate Committee on Sub-degree, Professional and Continuing Education Programmes (SPCEP)


Committee on Re-approval of Sub-degree, Professional and Continuing Education Programmes


Faculty Board Committee and Student Welfare and Scholarships Committee, Faculty of Medicine


Alumni Affairs Committee, Shaw College

教学职务
Chairperson, Energy Conservation Committee of Faculty of Medicine
教学职务
Chairperson of the following committees at The Nethersole School of Nursing:




School Executive Committee


School Staff Meeting


Nursing Board


Nethersole Advisory Committee


Department Academic Performance Committee



教学职务
Director, Asia-Pacific Genomic and Genetic Nursing Centre, The Nethersole School of Nursing
教学职务
Chairperson, Steering Committee of the Croucher Laboratory for Human Genomics, The Nethersole School of Nursing
教学职务
Co-Director, Cochrane Hong Kong and Co-Chair, Cochrane China Network, Cochrane (UK)
教学职务
External Examiner, Higher Diploma in Nursing and Professional Diploma of Nursing programmes, School of General Nursing, Hospital Authority, Hong Kong
教学职务
PhD Supervisor (Chief Supervisor, four ongoing and six graduated), The Nethersole School of Nursing
(最近五年以首席研究员或合作研究员身分获得之主要研究拨款)
| 拨款来源 | 项目名称 |
| --- | --- |
| Health and Medical Research Fund, Food and Health Bureau | An evaluation of the effectiveness of an acceptance-based adherence therapy for people with recent onset psychosis: a randomised controlled trial |
| Health and Medical Research Fund, Food and Health Bureau | Evaluating the effectiveness of a peer-led self-management programme for people with recent-onset psychosis: A randomized controlled trial |
| Innovation and Technology Fund for Better Living | iACT: A deep-learning mental health advisory system using Acceptance and Commitment Therapy for parents of children with special healthcare needs |
| Sigma Theta Tau International Small Grants 2021 | Effectiveness of an online psychoeducational programme for improving coping and symptom management in people with pathological dissociation: A pilot randomised waitlist-controlled pilot trial |
| Workplace Mental Health RFP 2021, Wellcome Trust Limited | Peer support and the mental health of migrant domestic workers: A scoping review |
| Workplace Mental Health RFP 2021, Wellcome Trust Limited | Empowering workplace allies for Lesbians, Gays, Bisexuals, and Transgenders (LGBT) employees for preventing psychological distress: A scoping review |
| Health and Medical Research Fund Research Fellowship Scheme, Food and Health Bureau | Effect of acceptance and commitment therapy-based lifestyle counselling programme for people with early psychosis on physical activity: A pilot randomised controlled trial |
| General Research Fund, Research Grants Council | Effectiveness of a family-facilitated self-learning for caregiving programme for adult family carers of people with first-episode psychosis: A randomised controlled trial with 18-month follow-up |
| Health and Medical Research Fund, Food and Health Bureau | Effects of acceptance and commitment therapy-based asthma management training programme for parents of young children with neurodevelopmental comorbidities: A randomised controlled trial |
| Health and Medical Research Fund, Food and Health Bureau | An evaluation of the effectiveness of a professional-supported problem-solving-based self-learning programme for family carers of people with recent-onset psychosis: A randomised controlled trial |
| Faculty Development Scheme, RGC Competitive Research Funding Schemes for Local Self-financing Degree Sector 2020-21 | The loneliness of older adults being cared for by live-in migrant workers and their dyadic relationship: A mixed-methods study |
| General Research Fund, Research Grants Council | Evaluation of an individualised exercise programme plus behavioural change enhancement strategies for managing general fatigue in community dwelling frail older people: A cluster-randomised controlled trial |
| Research Institute for Smart Ageing, PolyU | Quantification of brain age by functional MRI data: Complexity and functional connectivity |
| The British Council – BRICKS Social Innovation Research Collaboration Platform | Exploring stakeholders' views, preferred structure and content of a blended (online and face-to-face) delivery-mode Acceptance and Commitment Therapy (ACT) for parents of children with autism spectrum disorders |
(最近三年发表的十篇主要论文)
Publications
Chien, W. T., Tse, M. K., Chan, H. Y. L., Cheng, H. Y., & Chen, L. (2022). Is mindfulness-based intervention an effective treatment for people with obsessive-compulsive disorder? A systematic review and meta-analysis. Journal of Obsessive-Compulsive and Related Disorders, 32, 100712. https://doi.org/10.1016/j.jocrd.2022.100712
Kor, P. P. K., Liu, J. Y. W., & Chien, W. T. (2021). Effects of a modified mindfulness-based cognitive therapy for family caregivers of people with dementia: A randomised clinical trial. The Gerontologist, 61(6), 977-990. https://doi.org/10.1093/geront/gnaa125
Ngan, A., Chong, Y. Y., & Chien, W. T. (2021). Effects of mindfulness- and acceptance-based interventions on diabetes distress and glycaemic level in people with type 2 diabetes: Systematic review and meta-analysis. Diabetes Medicine, 38(4), e14525.
https://doi.org/10.1111/dme.14525
Chien, W. T., Chow, K. M., Chong, Y. Y., Bressington, D., Choi, K. C., & Chan, C. W. H. (2020). The role of five facets of mindfulness in a mindfulness-based psychoeducation intervention for people with recent-onset psychosis on mental and psychosocial health outcomes. Frontiers in Psychiatry, 11, 177. https://doi.org/10.3389/fpsyt.2020.00177
Gloster, A. T., Lamnisos, D., Lubenko, J., Presti, G., Squatrito, V., Constantinou, M., Nicolaou, C., Papacostas, S., Aydin, G., Chong, Y. Y., Chien, W. T., Cheng, H. Y., Ruiz, F. J., Garcia-Martin, M. B., Obanda-Posada, D. P., Segura-Vagas, M. A., Vasiliou, V. S., McHugh, L., Höfer, S., Baban, A., Neto, D. D., da Silva, A. N., Monestès, J-L, Alvarez-Galvez, J., Paez-Blarrina, M., Montesinos, F., Valdivia-Salas, S., Ori, D., Kleszcz, B., Lappalainen, R., Ivanović, I., Gosar, D., Dionne, F., Merwin, R. M., Kassianos, A. P., & Karekla, M. (2020). Impact of COVID-19 pandemic on mental health: An international study. PLOS ONE, 15(12), e0244809. https://doi.org/10.1371/journal.pone.0244809
Ho, G. W. K., Hyland, P., Shevlin, M., Chien, W. T., Inoue, S., Yang, P. J., Chen, F. H., Chan, A. C. Y., & Karatzias, T. (2020). The validity of ICD-11 PTSD and complex PTSD in East Asian cultures: Findings with young adults from China, Hong Kong, Japan, and Taiwan. European Journal of Psychotraumatology. 11(1), 1717826. https://doi.org/10.1080/20008198.2020.1717826
Chien, W. T., Cheng, H. Y., McMaster, T. W., Yip, A. L. K., & Wong, J. C. L. (2019). Effectiveness of a mindfulness-based psychoeducation group programme for early-stage schizophrenia: An 18-month randomised controlled trial. Schizophrenia Research, 212, 140-149. https://doi.org/10.1016/j.schres.2019.07.053
Chien, W. T., Clifton, A. V., Zhao, S., & Lui, S. (2019). Peer support for people with schizophrenia or other serious mental illness. Cochrane Database of Systematic Reviews, (4), CD010880. https://doi.org/10.1002/14651858.CD010880.pub2
Temesgen, W. A., Chien, W. T., & Bressington, D. (2019). Conceptualisations of subjective recovery from recent onset psychosis and its associated factors: A systematic review. Early Intervention in Psychiatry, 13(2), 181-193. https://doi.org/10.1111/eip.12698
Chien, W. T., Bressington, D., & Chan, S. W. C. (2018). A randomised controlled trial on mutual support group intervention for families of people with recent-onset psychosis: A four-year follow-up. Frontiers in Psychiatry, 9, 710. https://doi.org/10.3389/fpsyt.2018.00710