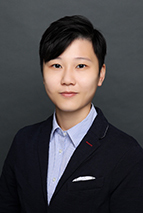 Table Header

Table Header

Addictive behaviours
Dialectical behaviour therapy-informed interventions
Non-communicable diseases
Professor Ho Long Kwan is an Assistant Professor at the Nethersole School of Nursing, Faculty of Medicine, The Chinese University of Hong Kong. She received her degrees of BNurs (1st Hons), MPhil and PhD from The University of Hong Kong. Her research focuses on eliminating addictive behaviours such as alcohol drinking and tobacco use, as well as preventing non-communicable diseases.
Professor Ho has obtained a number of external competitive research grants recently. One of her ongoing research projects investigates the effect of an internet-based dialectical behaviour therapy-informed skills training (DBT-ST) in reducing alcohol consumption among adult drinkers, which has laid the foundation for the application of DBT-ST in curbing alcohol use. Her research findings have been published in several high-quality international refereed nursing and health-related journals, such as Journal of Advanced Nursing, and Cancer Nursing.
| Sub Category | Awards & Honour |
| --- | --- |
| 研究奖项 | HKU Foundation Postgraduate Fellowships, The University of Hong Kong (2018) |
| 研究奖项 | University Research Internship Awards, The University of Hong Kong (2015) |
| Sub Category | Awards & Honours |
| --- | --- |
| 专业服务 | Executive Committee Member, Hong Kong Society for Nursing Education |
| 专业服务 | Member, International Society of Paediatric Oncology |
| 专业服务 | Member, The Hong Kong Paediatric Haematology and Oncology Study Group |
(最近五年以首席研究员或合作研究员身分获得之主要研究拨款)
| 拨款来源 | 项目名称 |
| --- | --- |
| Health and Medical Research Fund (HMRF) Research Fellowship Scheme | Effect of an internet-based dialectical behaviour therapy-informed skills training for reducing alcohol consumption and improving psychological distress of adult drinkers: A pilot randomised controlled trial |
| Health and Medical Research Fund (HMRF) Research Fellowship Scheme | Development and evaluation of a symptom management mobile health application with personalised support for children at the early stage of cancer survivorship and their caregivers |
| Nethersole Institute of Continuing Holistic Health Education Research Grant | Musical training programme to enhance resilience and self-esteem among school-aged children from low-income families: A pilot randomised controlled trial |
| Wellcome Trust Limited | Empowering workplace allies to lesbian, gay, bisexual, and transgender (LGBT) employees for preventing psychological distress: A scoping review |
(最近三年发表的十篇主要论文)
Publications
Chien, W. T., Ho, L. K., Gray, R., & Bressington, D. (2022). A randomised controlled trial of a peer-facilitated self-management programme for people with recent-onset psychosis. Schizophrenia Research, 250, 22–30. https://doi.org/10.1016/j.schres.2022.09.028
Cheung, A. T., Li, W. H. C., Ho, L. L. K., Chan, G. C. F., Lam, H. S. & Chung, J. O. K. (2022). Efficacy of mobile instant messaging-delivered brief motivational interviewing for parents to promote physical activity in paediatric cancer survivors: A randomised clinical trial. JAMA Network Open, 5(6), e2214600. https://doi.org/10.1001/jamanetworkopen.2022.14600
Ho, L. L. K., Li, W. H. C., Cheung, A. T., Luo, Y., Xia, W., & Chung, J. O. K. (2022). Impact of poverty on parent–child relationships, parental stress, and parenting practices. Frontiers in Public Health, 10, 849408. https://doi.org/10.3389/fpubh.2022.849408
Ho, L. L. K., Li, W. H. C., Cheung, A. T., & Xia, W. (2021). Effectiveness of smoking cessation interventions for smokers with chronic diseases: A systematic review. Journal of Advanced Nursing, 77(8), 3331–3342. https://doi.org/10.1111/jan.14869
Ho, L. L. K., Li, W. H. C., Cheung, A. T., Xia, W., & Lam, T. H. (2020). Awareness and use of heated tobacco products among youth smokers in Hong Kong: A cross-sectional study. International Journal of Environmental Research and Public Health, 17(22), 8575. https://doi.org/10.3390/ijerph17228575
Ho, L. L. K., Li, W. H. C., Cheung, A. T., Xia, W., Wang, M. P., Cheung, D. Y. T., & Lam, T. H. (2020). Impact of COVID-19 on the Hong Kong Youth Quitline service and quitting behaviours of its users. International Journal of Environmental Research and Public Health, 17(22), 8397. https://doi.org/10.3390/ijerph17228397
Ho, L. L. K., Li, W. H. C., Cheung, A. T., Xia, W., Ho, K. Y., & Chung, J. O. K. (2020). Low-income parents' perceptions of the importance of a musical training programme for their children: A qualitative study. BMC Public Health, 20, 1454. https://doi.org/10.1186/s12889-020-09568-7
Xia, W., Li, H. C. W., Cai, W., Song, P., Zhou, X., Lam, K. W. K., Ho, L. L. K., Cheung, A. T., Luo, Y., Zeng, C., Ho, K. Y. (2020). Effectiveness of a video-based smoking cessation intervention focusing on maternal and child health in promoting quitting among expectant fathers in China: A randomised controlled trial. PLOS Medicine, 17(9), e1003355. https://doi.org/10.1371/journal.pmed.1003355
Ho, L. L. K., Li, W. H. C., Cheung, A. T., Ho, E. K. Y., Lam, K. K. W., Chiu, S. Y., Chan, G. C. F., & Chung, J. O. K. (2019). Relationships among hope, psychological well-being and health-related quality of life in childhood cancer survivors.Journal of Health Psychology, 26(10), 528–1537. https://doi.org/10.1177/1359105319882742
Ho, L. L. K., Li, W. H. C., Ho, K. Y., Cheung, A. T., Chan, G. C. F., Chiu, S. Y., & Chung, J. O. K. (2019). Comparing the impact of cancer and treatment-related effects on psychological well-being and quality of life between Hong Kong survivors of childhood solid tumours and leukaemia. Cancer Nursing, 43(6), 446–454. https://doi.org/10.1097/NCC.0000000000000736